Landscaping and tree care: major challenges in condominiums
Landscaping and tree care: major challenges in condominiums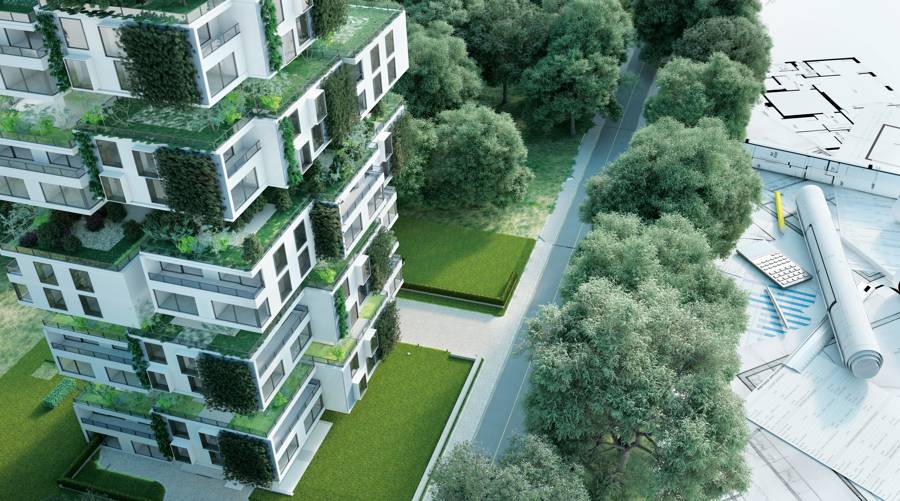 From community gardens and green roofs to a complete overhaul of the landscaping, landscaping can increase both the value of a property and its residents' quality of life.
These practices also present significant challenges within condominiums, where decision-making processes, structural issues, allocated budgets and maintenance are becoming increasingly complex.
Before embarking on a landscaping project, it's important to learn about the best practices to adopt, and then assess the overall investment required to ensure sustainability and avoid unpleasant surprises. That's why it's often best to rely on the expertise of companies and professionals in the field.
UNDERTAKING A GREENING PROJECT: A QUESTION OF FORESIGHT
Most landscaping projects in condominiums involve the repair or renewal of existing structures. Often symptomatic of a lack of planning and inadequate maintenance management, such work underscores the importance of devising a detailed, long-term plan that takes into account how residents will use the property and the possible modifications to be considered.
As Isabelle Séguin and Caroline Marcotte, landscape architects with urban and regional planning consultancy BC2, point out, "the involvement of a landscape architect in the upstream planning phase allows us to consider all the factors that go into a coherent, sustainable development that complies with current regulations. The firm, which works with real estate developers, has accumulated expertise in residential and condominium projects. Their recommendations? "Look beyond the initial appeal of putting a condominium up for sale, and invest in projects that take into account the layout of the various parts, for a homogeneous and pleasant layout, the longevity and quality of the materials used, municipal bylaws such as those of the boroughs, and above all, the different uses to which the installations will be put."
BEFORE ANY LANDSCAPING WORK: STUDY EXISTING STRUCTURES
Caroline Marcotte also stresses the lack of consideration given to existing structures when modifying existing landscaping. As attractive as community gardens and green roofs can be, it's imperative to carry out a thorough study of the underlying infrastructure. It's easy to puncture a waterproofing membrane with a misplaced stake, or damage a concrete slab when covering an underground parking lot or roof as part of green initiatives. Unfortunately, disasters are not uncommon, and lack of planning is most often the cause.
Whether it's a simple green lawn, an ornamental or community garden, a recreational area such as a swimming pool or children's playground, or the installation of a terrace, it's clear: the entire condominium must be considered, and the structures in place must be properly researched with the appropriate experts to avoid damaging them.
The possibilities for enhancing or upgrading landscaping can be as inspiring as they are successful. Whether it's reducing heat islands by installing well-designed green roofs or creating lush, eco-friendly gardens, the key is to be well-informed about the scope of these projects, their feasibility in relation to existing structures, the budget required and their maintenance. In other words, you need to have a well-developed, well-studied and well-budgeted plan!
OPTING FOR TREE LANDSCAPING: WHAT DO YOU NEED TO KNOW?
It's essential that co-owners be properly equipped to choose the approach best suited to their reality, from among the wide range of possible landscaping projects. This is precisely what Éric Trépanier, expert arborist at Élagage M.C., says about tree planting: "There is no one species of tree more suited than another; it's the environment and conditions that determine the ideal choice. Although aesthetics are disproportionately considered when selecting one species over another, he insists on the motto that must be adhered to first and foremost: "the right tree in the right place".
Choosing the right species for your condominium
The location designated for planting a species can represent a significant constraint in an urban environment. The growth and resilience of trees are often affected by stressful urban conditions, increasing their susceptibility to disease. Environmental pollution, generally higher temperatures, compacted soils, as well as municipal by-laws aimed at reducing the presence of certain particularly allergenic species, are all factors to consider.
Certain species are to be avoided at all costs, notably invasive species such as buckthorn and Japanese knotweed," stresses Mr. Trépanier, "but variety remains the ideal solution for ensuring the vitality of the species chosen, in order to avoid massive losses due to pathogens or pests".
In addition to the conditions in which the selected trees will thrive (such as soil quality and light levels), their location in relation to the condominium's structures must also be taken into account. Consideration must be given to rights of way, proximity to electrical wiring, available width and height (both "above" and "below" ground) to accommodate tree growth, etc.
Obtaining a certificate of location allows you to plan your tree planting properly. It indicates property boundaries (to avoid potential disputes with neighbouring owners), as well as the location of water, sewer, telephone and power lines.
Creating the right conditions for resilient trees
Among the elements to consider, a soil analysis is generally recommended, to establish the soil's nutrient and organic matter concentration levels, as well as its pH. This also enables us to determine the level of compaction, often exacerbated in urban environments, and to remedy it if necessary. This practice enables us to choose the right species and/or remedy any shortcomings in the potting soil, so as to create the best possible conditions for a healthy tree.
In turn, proper pruning is crucial to the resilience of your tree plantations. Proper pruning involves removing dead or diseased branches, thus avoiding uncontrolled breakage. This prevents damage to both the tree and surrounding structures during high winds or storms. "It's important to be meticulous and not overdo the pruning. It's wiser for a tree to have branches right down to the bottom of its trunk; that way, it can redistribute the force applied to it throughout its trunk and all its branches," explains Mr. Trépanier. As for topping and pollarding? "Absolutely not! It damages the integrity of the tree, exposing it to lignivorous pathogens and animal pests", adds the expert who sees it all in the field.
LANDSCAPE MAINTENANCE
Regardless of the nature and scale of the project, maintenance of the structures and botanical arrangements put in place is fundamental to ensuring their growth and health - and the value of the investment.This means setting aside a sufficient percentage of the projected budget (in both the short and long term) for maintenance work and monitoring the health of the trees.
It is also necessary to develop documentation tools and methods within the syndicate, whose function is to enable impeccable and transparent monitoring over the course of changes in custody. Keeping a diary detailing tree and structural maintenance, tree mapping and regular assessments of the health of all botanical species by professionals are excellent tools for keeping track of actions that have been undertaken and those to come.All of which can be appended to the maintenance booklet.
It's also good practice to train employees or residents in the regular practices they can easily carry out.On this point, Vincent Gaudreau, President of Gaudreau Assurances, insists: "Whether it's the person who mows your lawn or the contractor who does your landscaping, it's essential that the entity to which this person reports has the insurance required to do so.This aspect is often overlooked when it comes to actions of this nature, but incidents can happen all too easily."
Login to view this content
Become a member
Access all our services and a vast network of experts by becoming a member of the RGCQ.