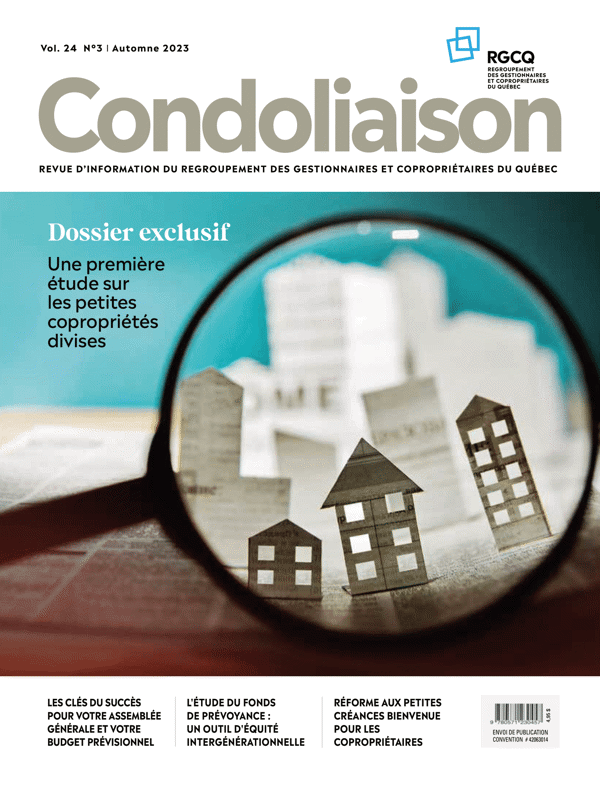 Contents
Articles in white font are available below in English
4. Éditorial
6. Formation continue et réseautage au RGCQ Profitez-en au maximum!
7. Calendrier des activités et des formations Septembre à décembre 2023
8. Comment bien réussir votre assemblée générale annuelle ?
14. L'assemblée et le budget Conseils pratiques pour comprendre et réussir son budget prévisionnel
20. Understanding majorities: what voting percentage for what type of decision?
28. Sécurité aux abords des piscines extérieures Fin du droit acquis et nouvelles obligations pour tous
36. Questions et réponses juridiques pour éviter les conflits
38. Dossier exclusif ! La première étude sur les petites copropriétés divises
40. Portrait des chercheurs Micheline Renault et Patrick Coulombe
41. Une première étude d'intérêt international grâce aux membres du RGCQ
43. Des données précieuses 
50. Le modèle de gouvernance des petites copropriétés 
58. Des conclusions importantes
60. The contingency fund study. A tool for intergenerational equity
62. Chronique gestion Entrée en vigueur de la loi 78 sur la transparence Impacts et conseils pratiques pour les gestionnaires de copropriétés
66. Legal column: Review and modification of the relative value of a fraction 
69. Le projet de loi 8 est adopté 
72. Chronique info-gestion: Vos questions, les réponses de notre équipe de conseillers experts
76. RGCQ Québec: Le nouveau défi de la gestion des renseignements personnels
77. RGCQ Outaouais: Le protocole a-t-il sa place en copropriété ?
Sign in to download the entire issue in PDF 
Not a member yet ? Sign up now!
Login to view this content
Become a member
Access all our services and a vast network of experts by becoming a member of the RGCQ.