Managing a condominium: ensuring the longevity of the condominium's built heritage
Managing a condominium: ensuring the longevity of the condominium's built heritage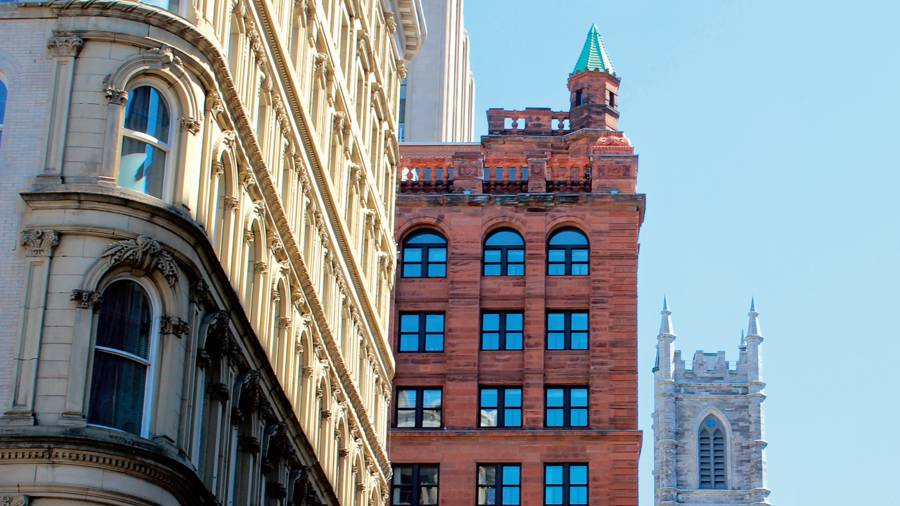 Living in a heritage building presents many challenges: careful planning, substantial financing, precise maintenance and repairs to preserve its authenticity and historic value, not to mention the appropriate insurance to hold and strict regulations to comply with. A heavy burden and a huge responsibility for any manager.
The notion of built heritage is often associated with historic monuments and emblematic buildings, but we must also consider the more modest buildings that form an integral part of our architectural heritage. These everyday buildings, such as working-class houses, industrial buildings or residential blocks, tell the story of our towns and communities. This heritage raises a number of concerns when it comes to managing these condominium buildings, particularly in terms of maintenance and insurance.
MANAGING BUILT HERITAGE
The condominium manager plays an essential role in the preservation and sustainability of the built heritage. Whether the building is a heritage property or not, this person assists the board of directors in the administration and management of the co-ownership, overseeing the maintenance, restoration and enhancement of its built heritage. The manager also ensures rigorous financial management, compliance with standards and regulations, technical documentation and communication with co-owners. When the building is classified as a heritage building, the manager has a number of special responsibilities, as the requirements are more numerous.
This person must have in-depth knowledge of the rules and regulations governing co-ownership and built heritage. They must be able to manage and draw up maintenance and renovation plans for buildings. She must also be able to understand the importance of preserving historic buildings and work actively to ensure their conservation and enhancement.
The importance of maintaining a heritage building
Maintenance is an essential part of preserving the value and integrity of a property. When it comes to heritage buildings, maintaining the cultural and symbolic value represented by Quebec's rich architectural and historical heritage is a real duty to future generations. Adherence to established standards and guidelines is crucial.
One of the key aspects of maintenance is the preservation of architectural integrity. This means maintaining the building's original features, such as construction materials, decorative elements and architectural details, to preserve its authentic appearance. Regular maintenance of exterior elements such as roofs, walls, windows and doors is essential to prevent damage caused by weathering and natural aging.
Another important aspect of maintaining a heritage building is preserving its mechanical and electrical systems. These older buildings may need their systems upgraded to meet modern safety and energy performance standards, while preserving their historic character. Working with qualified professionals who understand the specific needs of heritage buildings is a must.
Regular inspections enable potential problems to be detected at an early stage and dealt with quickly, helping to preserve the integrity of the building and reduce costs... and unpleasant surprises.
INSURING A "HERITAGE" CONDOMINIUM
Insuring a condominium located in a heritage building can be quite a challenge, as Annie Gosselin, a commercial property and casualty insurance broker with Gaudreau Assurances, explains. She also shares some valuable advice on how to avoid being caught off guard when it comes time to renew insurance policies.
First of all, it's a good idea to check whether the condominium is actually located in a building recognized as a heritage building before approaching insurers, with supporting evidence (if only copies of government websites). And yet, even with insurers, there is still a lack of awareness of these categories. For condominium owners, this vagueness is compounded by the risk of having a claim rejected. Indeed, many insurers are cautious when faced with this type of risk; some will be reluctant to accept such requests, while others will refuse them outright.
Indeed, the term "heritage" is often misinterpreted. A building may be listed, but not classified as such by the Quebec government. That's why it's so important to know how to insure them properly.
For example, a building may be of architectural interest and listed in a municipality's heritage directory, because it was designed by a renowned architect or for similar reasons, but has not been granted heritage recognition by the Quebec government.
Some other buildings are listed because they are located on a heritage site, but do not have heritage status.
Annie Gosselin, condominium insurance specialist, assures us that the issue is very real, and is causing many headaches for condominium managers."I regularly hear managers confide in me that their insurer hasn't renewed their file, and without much explanation.Apart from the reason for the heritage building, policyholders don't get any further details about the refusal to renew," she points out. "Often, the confusion stems from the fact that people are convinced that their condominium is in a building with heritage status when, in fact, it often isn't. From one day to the next, people find themselves in a situation where their condominium is in a building with heritage status. From one day to the next, people find themselves without insurance and don't know where to turn.
This confusion is shared between condominium associations and insurers; the former are convinced of the status of their building without necessarily having carried out the necessary research, and the latter will not, most of the time, investigate to confirm the official status of the building, beyond a non-exhaustive search in municipal "fiches".
"This confusion creates difficulties for the syndicates concerned, because they are wrongly perceived as being in heritage buildings, which leads to insurers refusing to renew their insurance policies, so they are not renewed for the wrong reason," says Annie Gosselin."This makes a big difference at the insurance company level, because in general they have very little appetite for heritage buildings."It's important to understand that when a heritage property suffers significant damage, the claims process is more complex than usual.The insurer has to assess the cost of rebuilding the property, taking into account all the elements with heritage value, special materials and unique features; it's common to call in a heritage property expert to assess the building.In addition, specialized contractors may need to be hired to reproduce the special features of the heritage property. Repairing damage to a heritage building can make a huge difference in terms of cost.
"The majority of insurers prefer to avoid this type of risk, opening the door to alternative markets in which insurers will share the risk, which becomes much more complex and much more expensive for the condominium," adds Ms. Gosselin.
She recommends that syndicates carry out more thorough research into the status of the building before approaching insurers, as it is often complex to change information declared in the file, or to try to overturn an insurer's refusal.And in the event of a refusal, the stakes are extremely high: there's no time to lose in finding another market or insurer, seeking advice from an insurance broker, and insuring the property as quickly as possible.
Login to view this content
Become a member
Access all our services and a vast network of experts by becoming a member of the RGCQ.